Hand/ Davis Events and Rendezvous
If you are hosting a William Hand, Jr. or R.O. Davis Event
please CONTACT US
and we will add it to the list of events.
Current Events: 2016 Event
Past Event: 2014 Event
July 26 & 27 Castine, Me
Guildive celebrated her 80th year afloat in 2014 and a Hand/ Davis rendezvous was hosted in Castine, ME. 1934 was a special year for many boat owners and the Wheeler Shipyard of Brooklyn New York had many notable visitors among them Ernest Hemmingway who commissioned Pilar and the Fish family who commissioned Restless for excursions up the Erie Canal to Cape Vincent. In attendance were Schooner Bowdoin, Admiral MacMillan's famous arctic exploration vessel designed by Hand and built by the Hodgedon Brothers of Booth Bay, Maine in 1921. Now the state of Maine's State Vessel and training vessel for the Maine Maritime Academy, Schooner Bowdoin and Guildive will be dockside and open to the public. Please contact us using our web form for further information.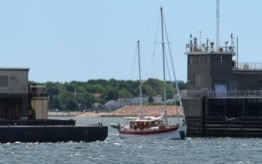 2012 Guildive passes through

New Bedford Hurrican Gates
The "Hand Vessel Homecoming" festival of July 2012 was hosted by the city of Fairhaven, MA in conjuction with its Bicentennial celebrations. William Hand Jr. and R.O. Davis kept their design studio and office in Fairhaven. It is presently owned by the Acushnet River Safe Boating Club and home to the US Coast Guard Auxiliary Flotilla 65. In attendance were the Schooner Bowdoin, Schooner Hindu and Tracker. Guildive visited Fairhaven earlier in June to show her support and visit the landmark New Bedford and Fairhaven Harbor of Refuge.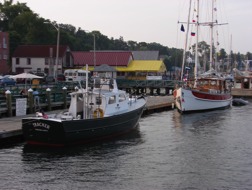 2011 Tracker and Guildive
Castine hosted the first William Hand boat gathering in July 2011 with the celebration of Schooner Bowdoin's 90th year afloat. Bowdoin celebrated with dockside tours and several day sails open to the public. The gathering consisted of seven vessels, Schooner Bowdoin, Guildive, Schooner Nathaniel Bowditch, Alisande, Patience B, Burma and Tracker, the very last boat to be designed by William Hand Jr.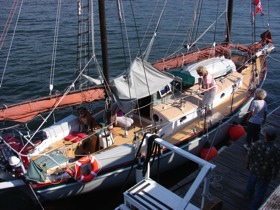 Patience B, at Dennett's Wharf Restaurant
William Hand Festival 2011
Tracker visiting from Vineyard Haven to
Castine for the William Hand festival 2011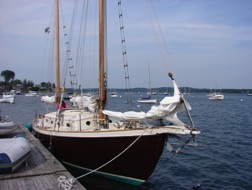 Allisande on Eaton's Wharf
William Hand Festival 2011 Castine, ME
Schooner Bowdoin, Maine Maritime Academy docks
William Hand Festival 2011